Challenge/Foundations, CrossFit Village Berwyn – CrossFit
Hey there Villagers,
As crazy as it might sound, the 2019 CrossFit open is right about the corner! With that in mind, you might notice a little change in the programming in the coming weeks.
We've spent the last while incorporating some longer metcons, learning how to hold a steady pace. Now we'll start to learn how and when to push the pace by adding in more work:rest ratios, simulating the burn we are all so familiar with from past opens. If you find yourself craving the longer metcons, don't worry they'll be mixed in, but we encourage you to keep learning how to sprint!
On top of that, we'll build in more time for high skill movement practice so we can be prepared when things like muscle-ups, pistols, and handstands pop up.
Please feel free to reach out to your coaches if you have any questions!
P.S. – Hope you all enjoy bike week 2018!
Warm-up
Warm-up (No Measure)
4 Rounds:
10 Air Squats

10 Dbl DB Deadlift

10 Dbl DB Bent-over Rows

10 Top-down Single Arm Dbl DB Press
Weightlifting
Keep that vision of beautiful handstand push-ups and pistols in your head during these!
Shoulder Press (6 Sets of 5 Reps)
Build to a heavy set of 5 reps.
Box Step Ups (6 Sets of 5 Reps per leg)
Point your toe to the ceiling, and barely touch the ground with your heel. If you can't do that it's too high, so try a shorter box or stand on a plate(s).
Metcon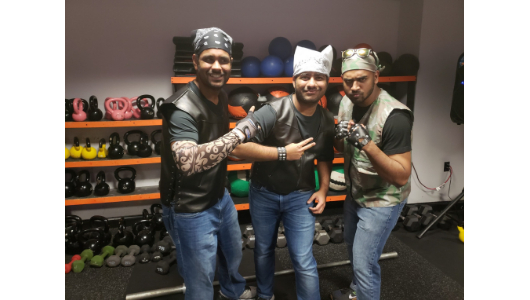 Metcon (Time)
Complete for time:
50/30 Cal AB

50 Thrusters (45/33#)
Target: 6 minutes

Cap: 9 minutes